Hey everyone, today I'm going to be taking a look at this interesting piece from U-Boat, the Classico Tungsten 50. Now, I'm very new to the watch industry and, from what I've seen, U-Boat doesn't seem to be like a lot of the other brands out there. They use Swiss movements and are hand assembled in Italy, a fact they're quite proud of, but they very much have their own recognizable style; you won't find a traditional diver or flieger style watch here.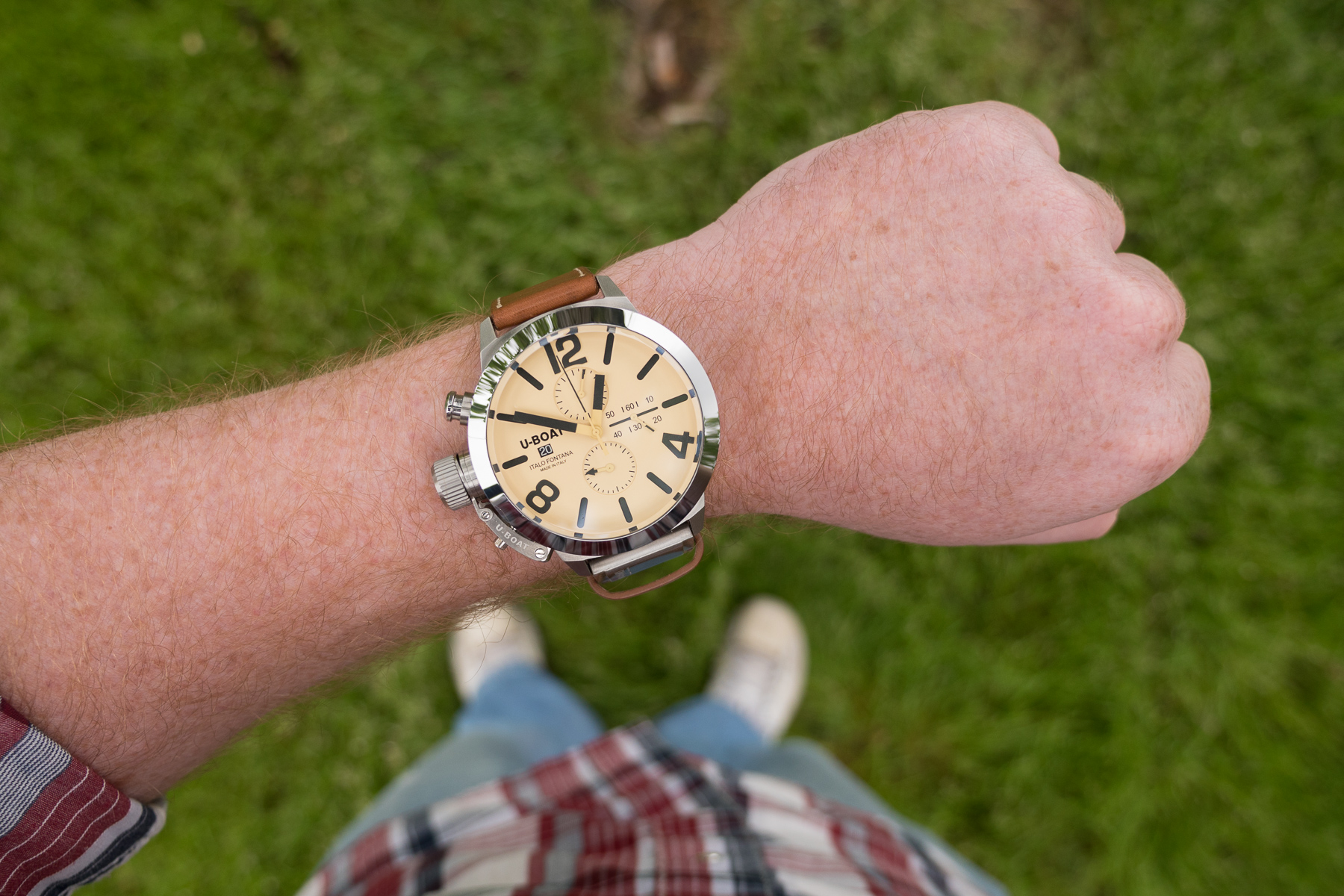 A key design element is the crown at the 9 o'clock position, combined with a large case, typically in the 45-50mm range, with bold, easy to read dials. Italo Fontana, the designer and founder of U-Boat, says the inspiration for these designs come from drawings from a line of watches created by his grandfather that were commissioned by the Italian Navy in 1942. Unfortunately, that project never materialized, but there appears to be a deep family heritage involved which is a neat aspect of the brand.
As the name suggests, the Classico Tungsten 50 has a 50mm case and it's also available in a smaller 45mm version. There's also one with inverted dial colors that comes on a dark brown leather strap. And these are just two of the much larger Classico lineup with pieces made from sterling silver, ceramic, titanium, and many other variations, so there's several options to choose from.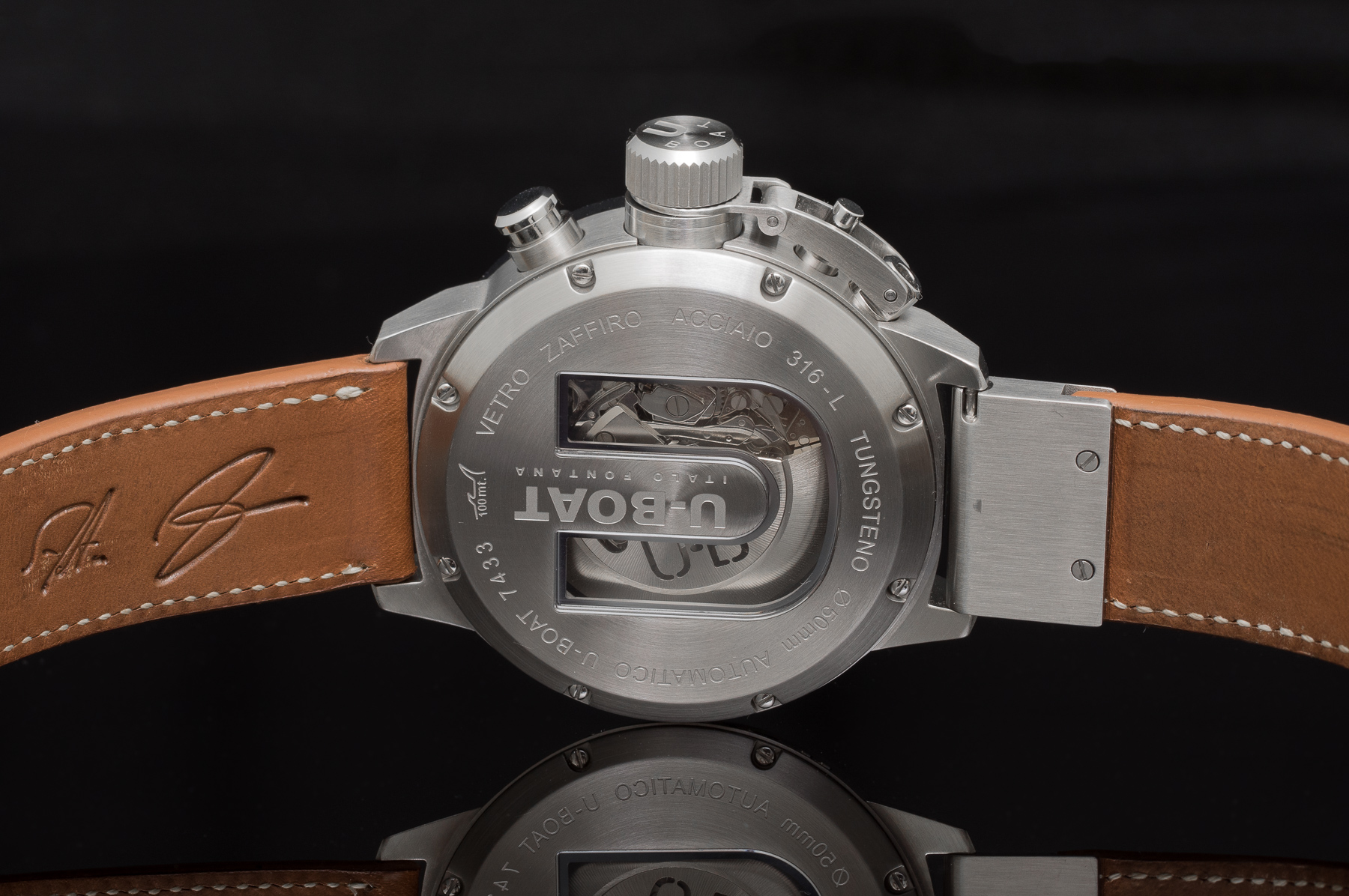 With the strap, the Classico Tungsten weighs in at 8.5oz. Most of that heft comes from the case and caseback made from 316L stainless steel and the tungsten bezel, which is a very dense metal. All the steel parts of the watch feature a satin hand finish while the tungsten bezel has a mirror-like polish. The advantage to using tungsten for the bezel material is that it's an extremely hard material and will resist abrasions much better than steel. Along with the bezel, the pushers are also polished which provides a really good looking, subtle contrast between the parts.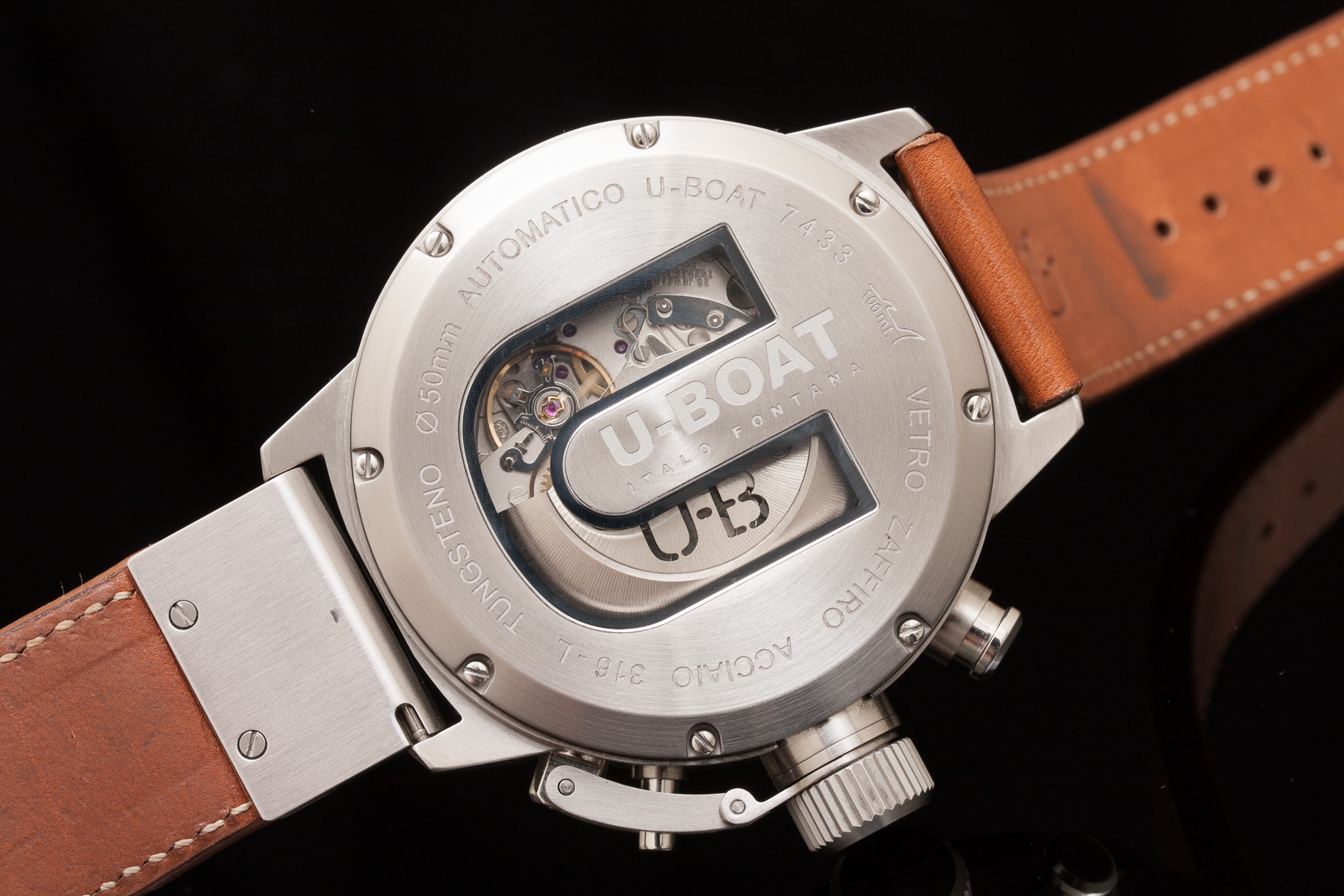 The brushed finish is carried out on the back of the case, which is also made from 316L stainless steel, and is sealed to the case with 8 external screws for a water resistance rating of 100m or 10 standard atmospheres. I really like what U-Boat has done here with the U-shaped sapphire crystal window. It's a good looking way of incorporating the branding into the watch and is something different than the standard round window, yet it still gives you peak at the Swiss made Valjoux 7750 chronograph movement. This is a solid, highly regarded, workhorse of a movement with 25 jewels, 28,800vph, that's 8 beats per second, and a 44 hour power reserve. It's been customized to U-Boat's specifications which include the skeletonized rotor and the date display and stem moved to the 9 o'clock position.
And this a big part of the U-Boat styling, it's kinda what they're known for. It really makes them stand out and you can spot one from across the room. Literally, at 50mm, you can see this from across the room. It will get you noticed.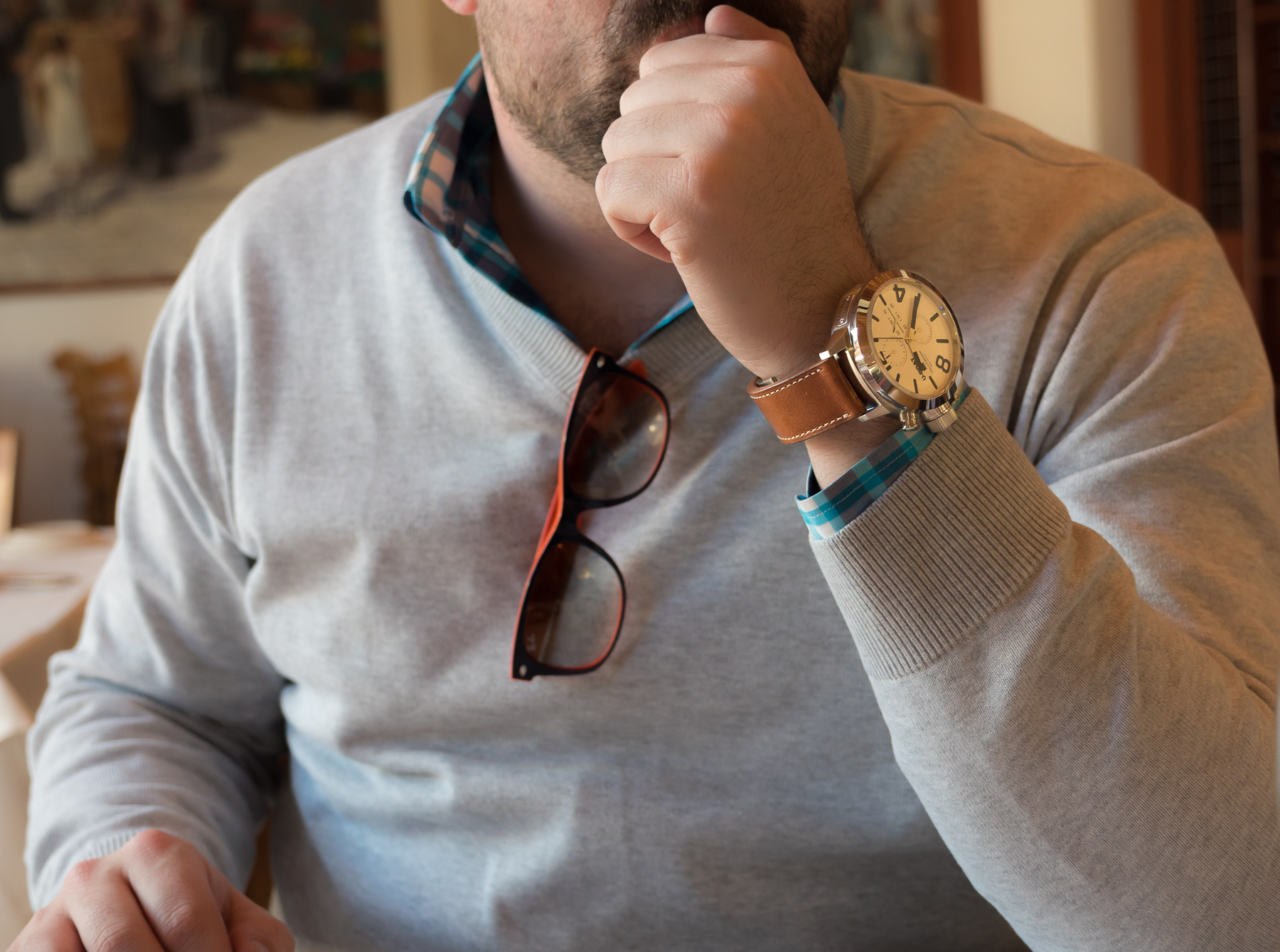 Given the clarity of the flat sapphire crystal on the front, most people will be able to read it from across the room, or at least from across the table. It has an anti-reflective coating and no distortion I could detect. While there are pros and cons to both domed and flat crystals, I've gotta say I prefer them flat. Comparing the flat crystal in the U-Boat to the domed sapphire crystal in my Maratac GPT-2, you can really see the difference in distortion.
Notice the difference in clarity the flat crystal in the U-BOAT (left) makes when viewed off-angle compared to the domed sapphire crystal in my Maratac GPT-2.
The U-BOAT handles reflections exceptionally well. The Maratac's crystal is AR coated, as well, but doesn't seem as effective as the U-BOAT.
I wish I had a watch with a double domed crystal to see how much difference that would make, but of these two, I much prefer the clarity the flat crystal provides. Both watches are listed as having an anti-reflective coating so I don't know if it's the flat crystal or the different color dials on each watch, but the U-Boat is dramatically better at reducing reflections. It looks like to me that it has a dual AR coated crystal, but that's not specified in their materials. Either way, the result speaks for itself.
The beige-colored dial has nice, large arabic numerals and hour indicators which make it very easy to read. The Arabic numerals at the 4, 8, and 12 positions are raised up off the dial while the hour indices are cut out, giving the face a multi-dimensional look. Superluminova is applied to the hands and markers, but since they're painted black, it's difficult to see. If lume is important to you, check out the other version with the black dial and white hands and markers.
The sub-dial at the 3 o'clock position is the running seconds hand while the large center second hand is used for the chrono. The 6 o'clock sub-dial is a 30 minute counter with a 12 hour counter at the 12 o'clock position. The pusher at 8 o'clock can easily be operated without having to move the crown guard and stops and starts the timer. The pusher at 10 o'clock resets it. The action on each pusher is very crisp. There's a small bit of take-up that quickly runs into a solid wall. The break is crisp and clean and really feels like you're operating a solid, mechanical movement.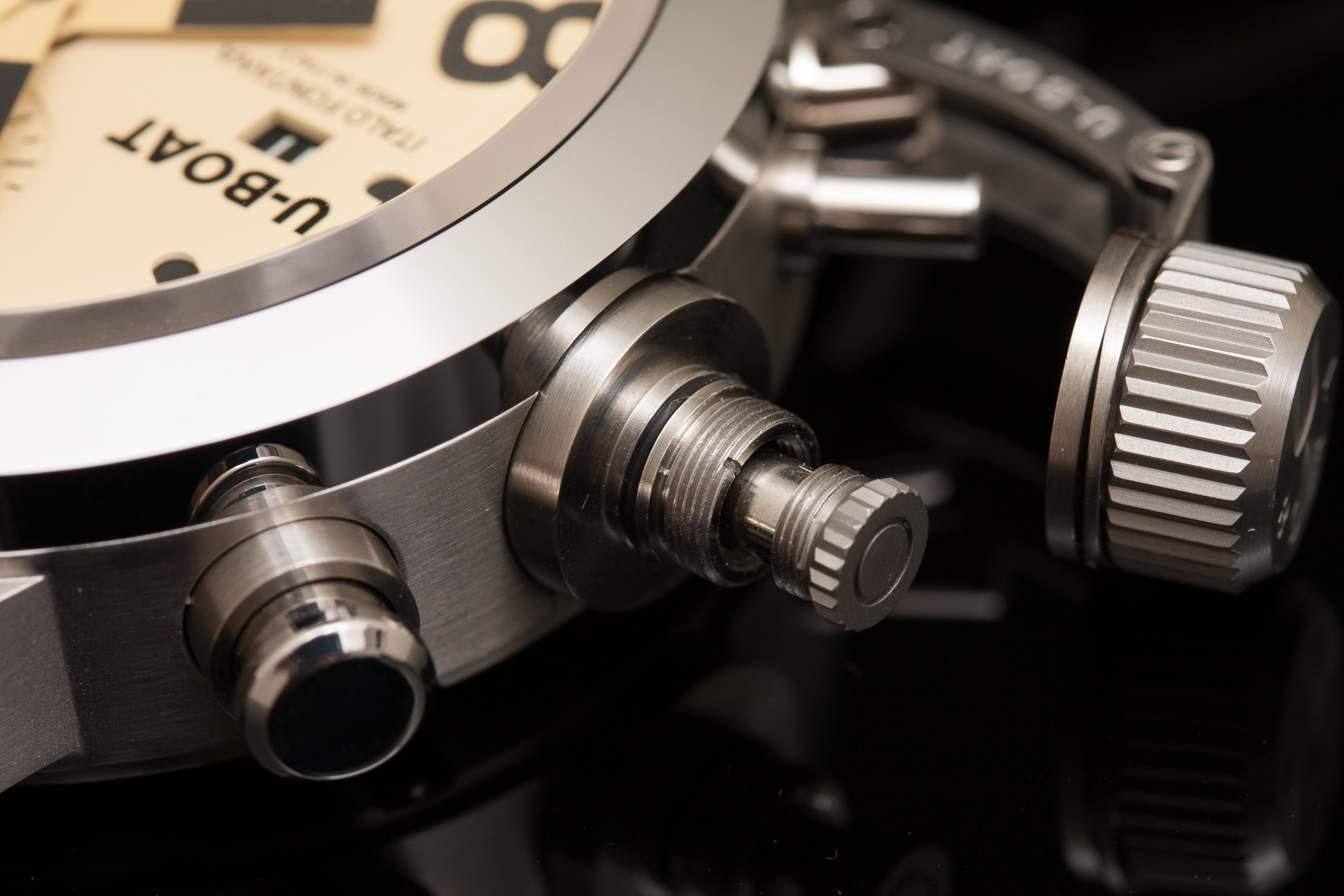 The crown guard has the U-BOAT name machined into it with straight knurling that makes it very easy to grip without being overly sharp. The screw-down crown is fairly small, but easy operate. It's spring-loaded so once you unscrew it far enough, it ejects out a bit. Calling this position "A", you can hand-wind the main spring. With the spring completely out of energy, it only takes a few turns to get things moving. When fully wound, this watch has a 44 hour power reserve. Pulling it out one click to position "B" allows you to quickly change the date. Pulling it out one more click, to its furthest position "C", hacks the second hand and allows you to set the time. I didn't notice any slop or wiggle with the stem while operating it. It feels like it's connected directly to a bunch of a gears. It feels mechanical. It feels good.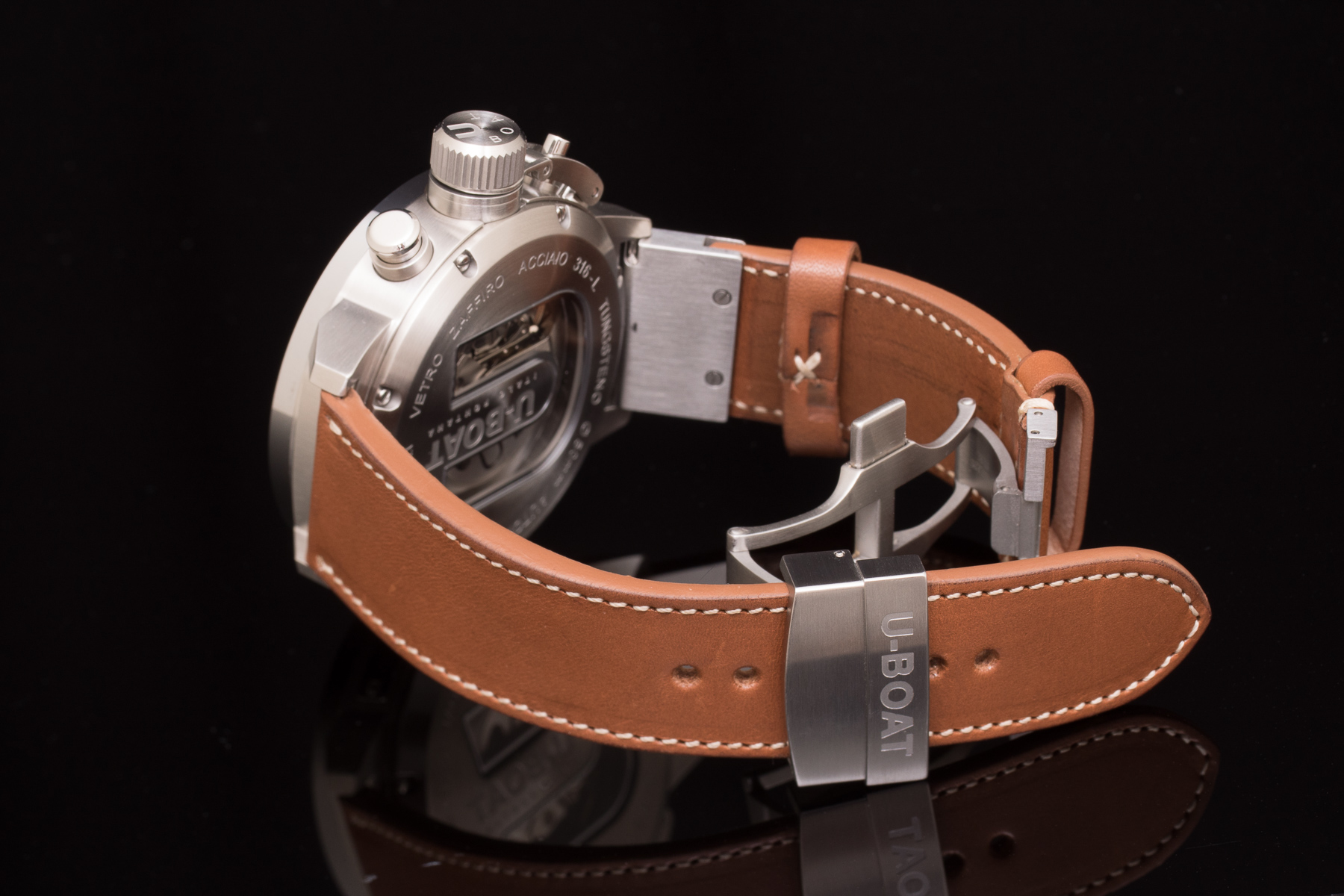 The strap that comes on the watch is a light brown calf leather that's hand made and finished with a light colored stitching that accents the watch very well. It comes with a deployante buckle with the same satin finish as the case, and if you want to swap it out for something else, they've got like 70 different straps to choose from.
So how's it feel to wear a watch like this? I know some of you are probably thinking, "Ah, just tape a dinner plate to your wrist and you'll have good idea." But, it's actually not that bad. I have a 7 ½" diameter wrist and wear a 46mm watch (the Maratac GPT-2) as my daily, so take that into consideration. I mean, it's definitely large. It's a 50mm case, with a 58mm lug-to-lug, a lug width of 23, and an overall thickness of 18mm. But, it doesn't seem outlandish.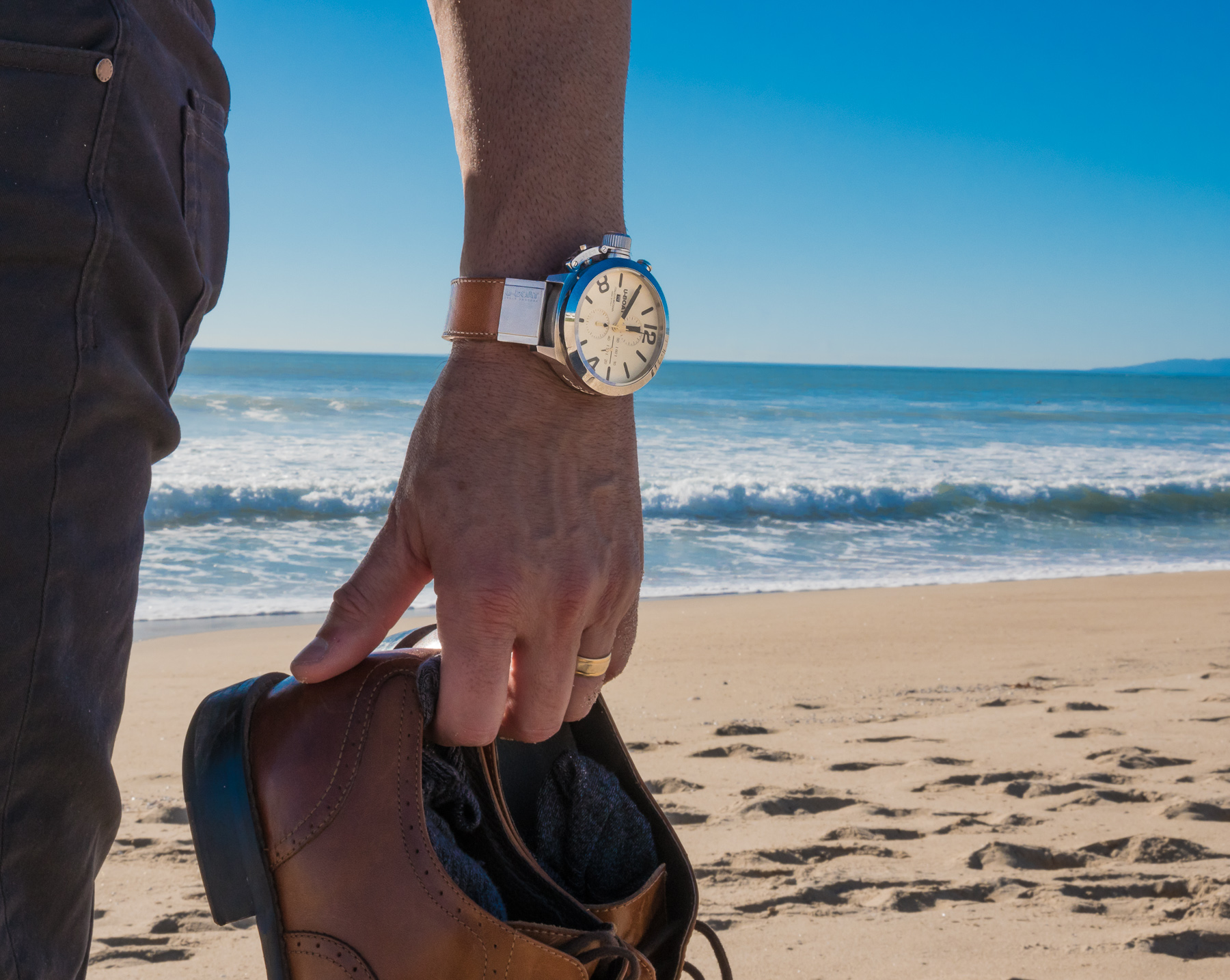 With the crown and pusher on the left, it wears almost as comfortable as my Maratac. It's not so big that it makes my Maratac feel small when I switch back to it. The only real difference is the weight, where the U-Boat has 3.5oz on my 5oz Maratac. I think I pull it off pretty well and it seems to be at home whether I'm out for a nice dinner in a suit or out on the links, but there may be many of you who disagree with that. Either way, I'd love to hear your thoughts on this watch.