This is a very special set of Visconti pens made exclusively for Chatterley Luxuries' 10th Anniversary. If you're not familiar with the name, Chatterley Luxuries is a writing instruments retailer owned and operated by Bryant Greer. I did a little video feature of Bryant at the DC Pen Show a couple years ago that you can watch to find out more about Bryant and Chatterley Luxuries.
I've been a big fan of Bryant's for a long time because he provides excellent customer service, has amazing pens, and by far the best prices you'll find anywhere. But above all, he's just a great guy and if you ever have a chance to meet him at a pen show, I think you'll come to the same conclusion.
One thing that separates Chatterley Luxuries from other retailers is the amount of small-batch limited editions they're able to procure while still keeping prices competitive, and usually even better priced than the regular production model from other retailers. So, when Bryant offered to let me have a look at a new set of Viscontis he had made, I didn't hesitate to jump at the chance.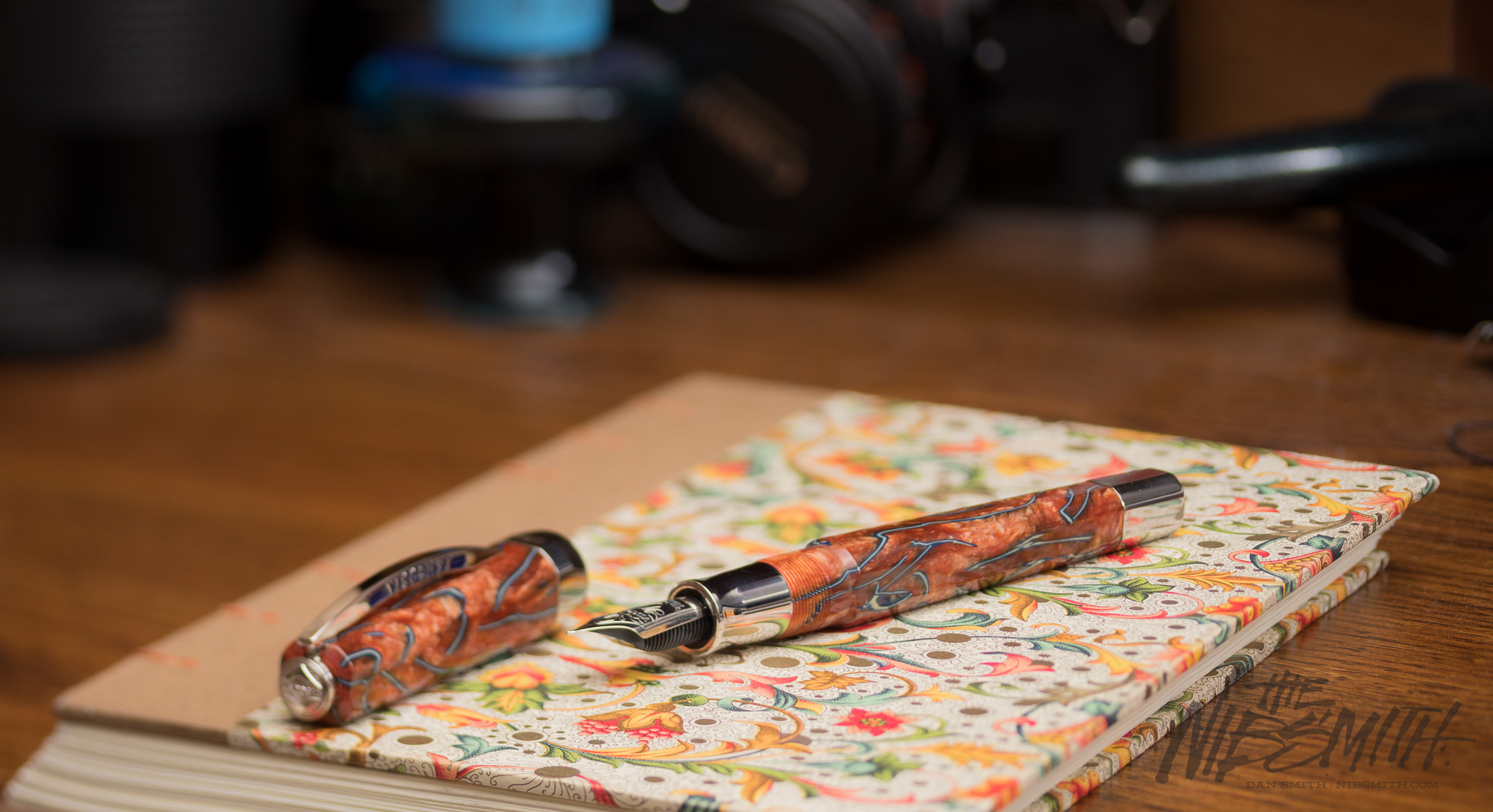 Visconti Opera in Desert Springs celluloid.
There's three models made in a variety of materials and trim colors. The first is the Opera Master in Candy Striped Green Celluloid or the Southwest celluloid, both available in sterling silver, yellow gold vermeil, or rose gold vermeil trims. Each material is limited to 10 pens in each trim for a total of 60 Opera Masters. These utilize the double reservoir power filler with an ink capacity of 3.8mL and an ink window between the section and barrel that's hidden when capped. When the filling knob is screwed down, the ink chamber in the barrel is sealed off from the chamber in the grip section, but there's so much ink in the section that you'll rarely have to crack the seal to refill it. The #6 size, 23k palladium nib is available in 6 different widths from Extra Fine to Double Broad and 1.3 stub.
The second model is the Opera made in the Titanic or Desert Springs celluloid, each available in gold or silver trim. The Titanic Opera will be limited to 10 pens in silver trim and 15 in gold while the Desert Springs will be limited to 15 pens in silver trim and 10 in gold. The Opera uses a threaded converter for filling which makes for easy cleaning and appears of higher quality than most of there converters. Nib options are just as varied as the Opera Master meaning you get all 6 sizes of the #6, 23k Palladium nib from EF to BB and 1.3 stub.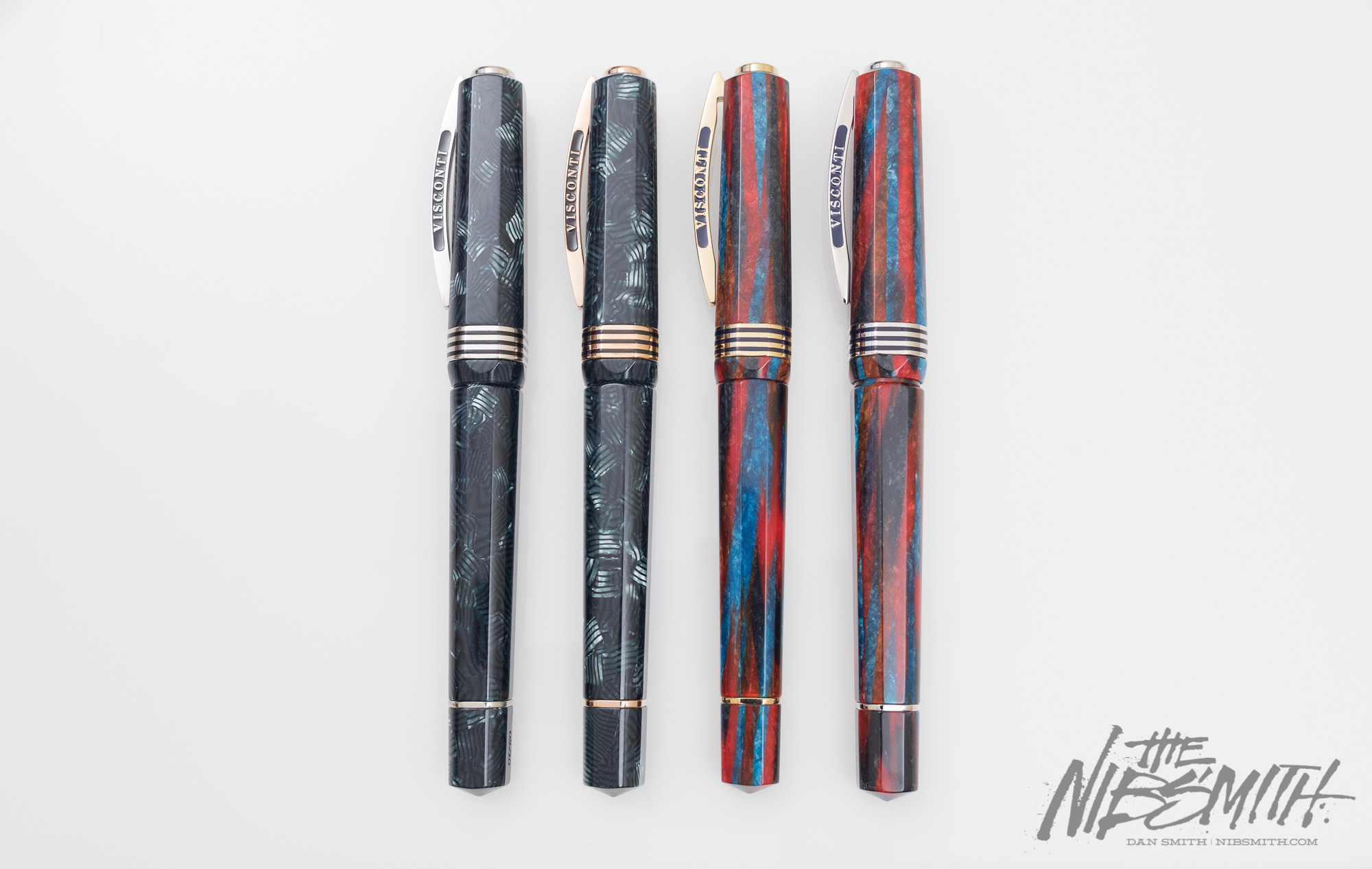 Visconti Opera Master in Candy Stripe Green (left) and Soutwest (right) celluloid.
The last model is the Ragtime made in the Titanic or Burlwood celluloid, the same as that used in the Divine Proportions. The Titanic Ragtime is limited to 10 pens in both gold and silver trims while the Burlwood is limited to 20 in each trim. It should be noted that the cap bands on all the Ragtime pens are made in either solid yellow or white gold to match the rest of the trim, rather than just being plated. You don't often see solid gold bands anymore so it's a nice perk to have it here.
The Ragtime has what Visconti calls a "piston" filler, but really it's a captive converter and Bryant actually makes that distinction in the description on his website. It's a level of honesty you won't find from every other retailer. While I tend to prefer pistons over captive converters, there's no denying the ease in repair of a captive converter should the need ever arise. The Ragtime, being a smaller pen, uses the #4 nib made from 23k Palladium available in fine, medium, or broad widths.
I really like the amount of variation Bryant has created here. Given the amount materials, trim options, and the physical size of each pen, there should be something for everyone.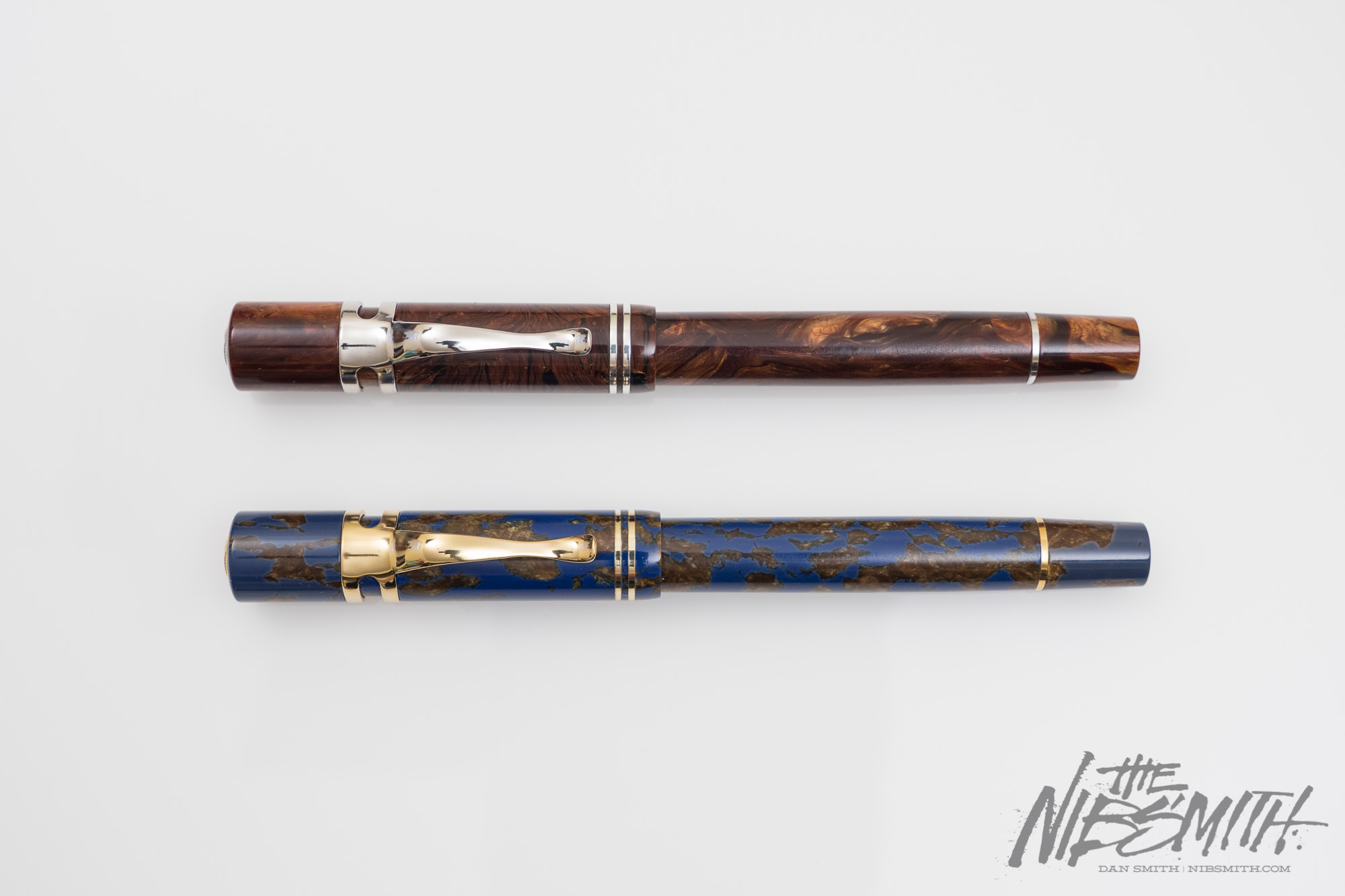 Visconti Ragtime in Burlwood (top) and Titanic (bottom) celluloid.
I've gotta thank Bryant for sending me the variety of pens and nib sizes he did. He's given me the opportunity to try every width available and I was impressed with how each performed. In the past, I've run into issues with Visconti's wider nibs, the BB and 1.3 stub, with them typically having a bit of a baby's bottom. This is what gives those nibs their buttery smooth feel, but taken too far, it can cause hard starts. Fortunately, I haven't had any issues from the wide nibs in this batch, or any of the other nibs for that matter.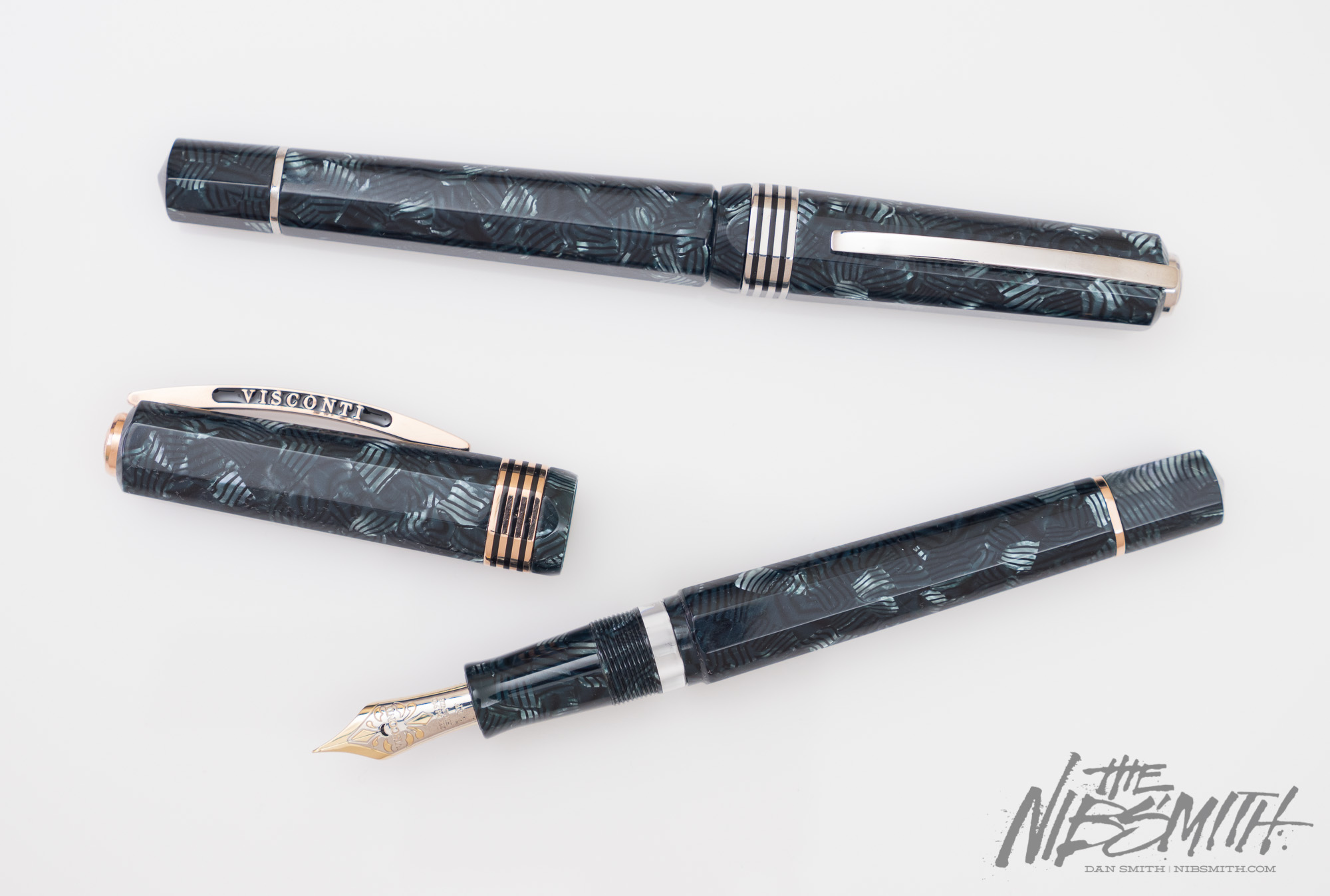 Visconti Opera Master in Candy Stripe Green celluloid.
Given the limited production of these pens and the special occasion they were created for, you couldn't really be faulted for expecting a premium price. But, somehow, Bryant is managing to sell them all at incredible prices. For instance, the Opera Master that's coming in Blue Swirl and the Crimson Tide that's been out for a while are being sold for $876, and that's the 20% discount off retail. But, the Chatterley Luxuries 10th Anniversary Opera Master is $795. And the Ragtime 20th Anniversary that's limited to "only" 1988 pieces is selling for $575, but Bryant is selling his for $475. Even the Opera is only $475!
I've heard the argument that what you save on price you give up in customer service, but in all the years I've known Bryant and have been part of the pen community, I've never heard nor experienced anything less than top shelf customer service.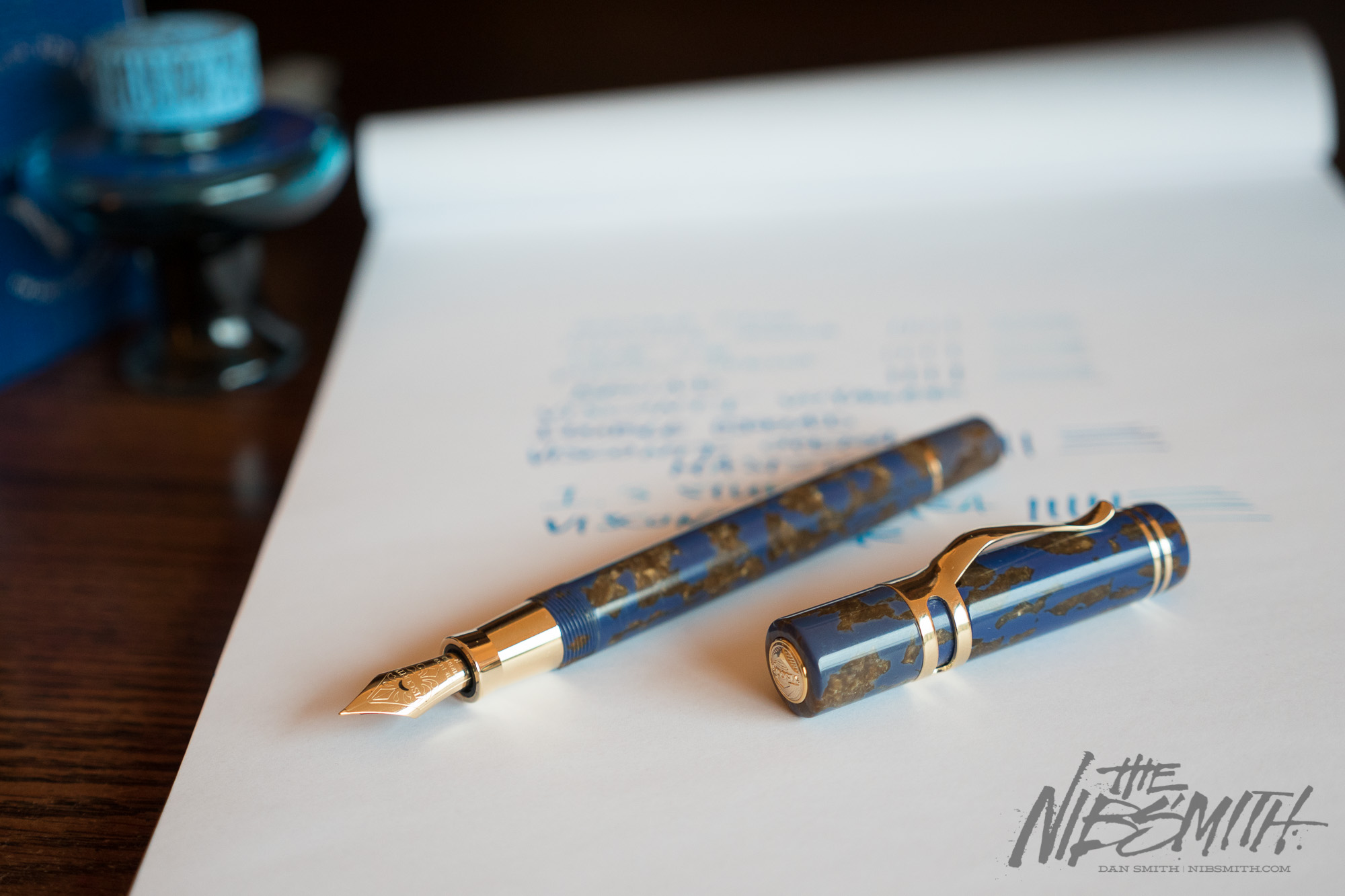 Visconti Ragtime in Titanic celluloid.