My "mini review" is intended to be a short, concise review after spending a few weeks with a pen. While not as extensive as my video reviews, it should provide you with enough information to make an informed purchasing decision. This pen was provided to me for the purpose of this review.
The Mule is based on the Montegrappa Fortuna, a pen I find to be comfortable whether the cap is posted or not. The cap does post securely and thanks to the plastic inner cap and threads, it won't scratch the barrel. The copper cap and barrel are brilliantly shiny when new and after a couple of weeks of use have started to develop a patina along with a number of surface marks from being clipped into the same pocket as my phone. My ONLY niggle with this pen is how tight the clip is, which can make it difficult to clip to a shirt or pants pocket. But, better too tight than too loose, I suppose.
The copper is offset by brushed steel trim that's also applied to the grip section and nib. Generally, I'm not a fan of metal sections but the brushed finish does add enough texture to provide a solid grip and prevent the pen from becoming slippery. The pen looks good with the brushed trim, but I would love to see what it would look like with black trim, like that used on the barrel threads between the barrel and section.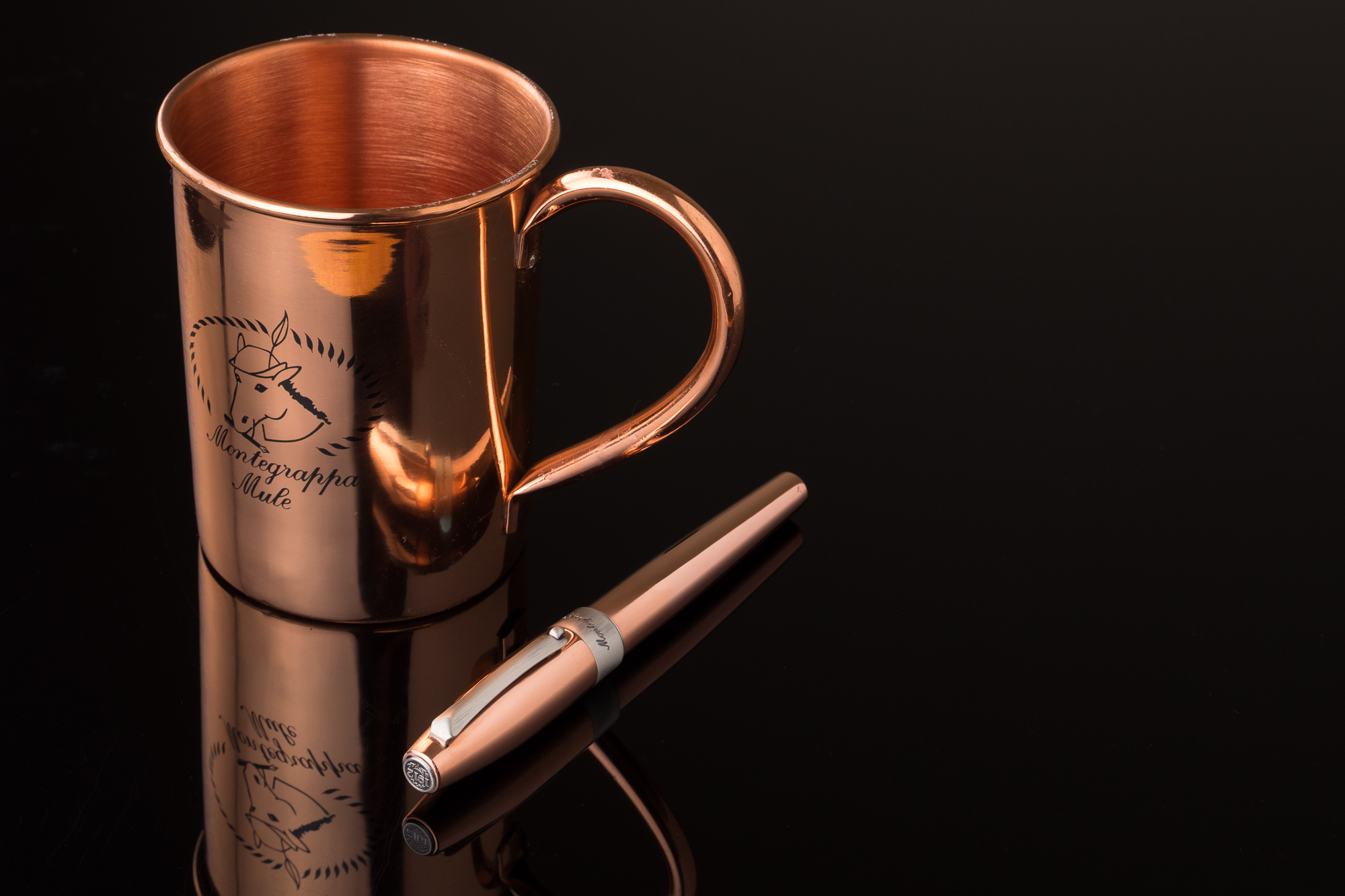 The threaded converter ensures a secure connection while the agitator inside the converter prevents any ink flow issues. My pen has a medium nib that produces more of a fine-medium line with slightly dry flow, but not dry enough to introduce any performance issues. I prefer flow to be slightly dry than slightly wet as it's easier to increase flow than decrease it. Also, too heavy of flow on the wrong paper can lead to feathering, negating the fineness of the nib. So far, I've found this nib to be smooth and a joy to use.
At a MSRP of $375, the Mule is at the upper end of the spectrum for pens with a steel nib and Montegrappa is often criticized for not providing as much as value as comparably priced gold-nibbed pens. I think the overall experience is most important than the sum of the parts of the pen so when the Mule performs just as well as, or better than, comparably priced gold-nibbed pens, I don't hesitate to recommend it. I think it's the best copper pen currently available. There are alternatives that are almost as good, but don't quite deliver the same sense of quality, prestige, and performance of the Mule.  It's a pen that's meant to be carried with you everywhere and, by doing so, will develop a finish that's unique to you.